Family Bonds
Because we are far from Japan, we want to value the time that families spend together.
We, HarmoniQ Residence Sriracha, would like to respond to this wish.
We provide best living environment for your family. Please enjoy comfortable time here with your family.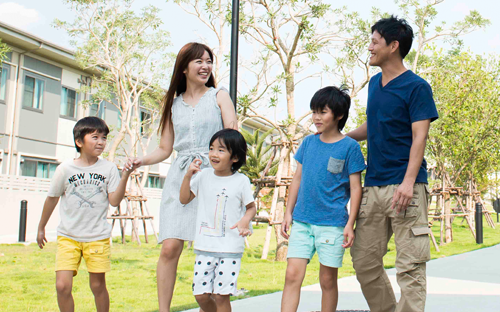 Our Promise
Provide the optimal location for commuting to work, attending Japanese schools, and shopping around Sriracha.
We will pursue Japanese quality and Japanese style services.
We will strive to create a comfortable and beautiful environment.
We aim to create a safe and secure living environment for all family.
We deliver valuable real estate at a valuable price.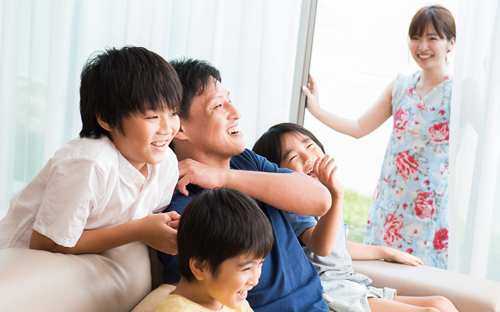 HarmoniQ Residence Sriracha's appeal
Location
Adjacent to Sriracha Japanese School and Oisca Kindergarten. You can go to school on foot
Enhancement of convenient living facilities such as J-PARK, MaxValu, TSURUHA Drug, and Starbucks
Pingtong Industrial Estate, Saha Group Industrial Estate, Amata City Industrial Estate, and Amatanakorn Industrial Estate,
Convenient for commuting in the Chonburi Rayong area, such as the Eastern Seaboard Industrial Estate
Good access to expressways, Bangkok Suvarnabhumi Airport, Pataya, and Rayong
Near to B.S.C. Driving Range, Samitivej Clinic, Cafe Amazon, etc.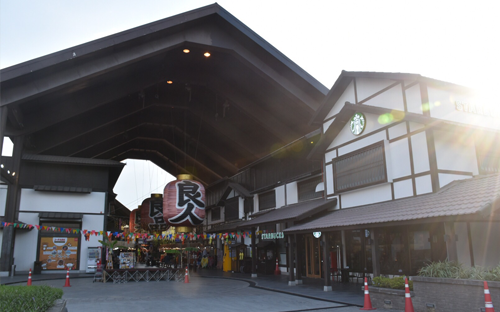 Japanese Quality
Exerting Tokyu Corporation's expertise in real estate development
High-air-tight, high-insulation houses constructed by SCG Heim (Sekisui Heim)
Apartment Management and Real Estate Management by the Saha Group and the Tokyu Group
LIXIL kitchens, which has the largest shares of the Japanese market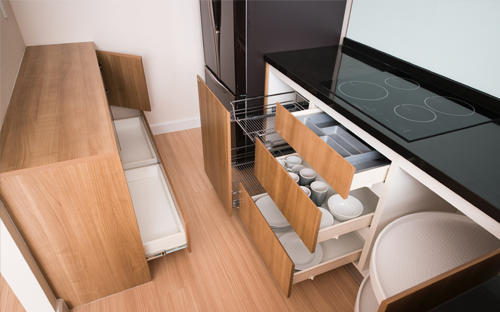 Japanese Style
Room layouts pursuing the Ease of Living for Japanese
Face-to-face kitchens where families can enjoy interacting with each other while cooking and eating.
Large-space living room with 2.8M ceiling-height.
Japanese stylle Bathrooms with washing area to enjoy with family members
Drum type washing machine in a washroom that also functions as a changing room
Daily pleasant private toilets (with auto-cleaning functions)
Ample storage space
Ensure ample space for shoes in the entrance hall
Comfortable Living Area
Large playgrounds, indoor kids room and kids pool that enable children to play safely
Green sidewalk where people can enjoy walking
Club house lounges where tenants gather, relax, and chat
Multi-use club rooms available for birthday parties and gatherings
Good facilities for exercise such as swimming pool, full fitness room and studios
A mini-shop that is convenient for a little shopping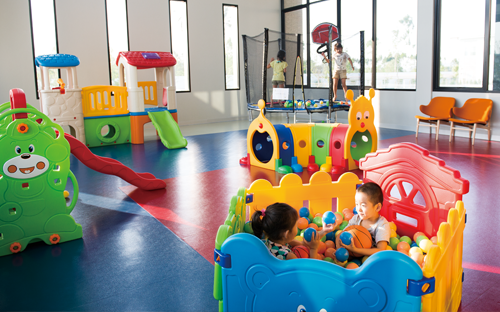 Stress-free & Safety
Same Sound insulation performance (D-50) grade with that of Japanese premium real estate
Increase efficiency of air conditioners through roof insulation, comfortable and eco-friendly housing
Optional services (maid, laundry, house cleaning service)
Ensuring the safety of children by separating pedestrians and vehicles
Entry and exit management at security gates
24-hour security system with security cameras and patrols